Quotes of the Day
Thursday, Apr. 30, 2009
I'm pleased with the progress we've made but I'm not satisfied.
BARACK OBAMA,
stating that his first 100 days in office have been successful, but admitting that more needs to be done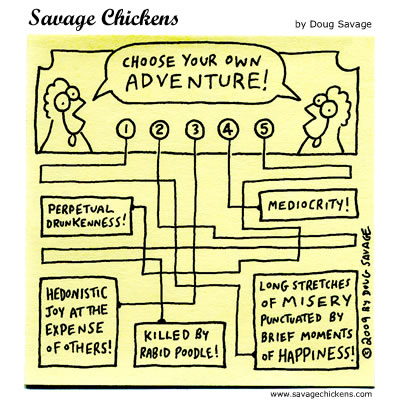 More adventure.
-- You no longer know what time fast food drive-thru windows close.

-- Your potted plants stay alive.

-- You pay at least a dollar more than the minimum payment on your credit card bill.

-- Your friends' hook-ups and break-ups are now marriages and divorces.

-- You attend parties that the police don't raid.

-- You're not expected to leave the room when the adults are talking.

-- You refer to college students as "those kids."

-- You drink wine, scotch and martinis instead of just beer, beer and beer.

-- You feed your dog Science Diet instead of leftover pizza.

-- At 6 a.m., you're putting your contact lens in instead of taking them out.

-- Naps are no longer weekday options.

-- Dating involves dinner and a movie, not keggers and Ecstasy.

-- Grocery lists contain more than toilet paper and potato chips.

-- You leave parties because you have a busy day tomorrow, not because the EMS guy has strapped you down.
Quotes of the Day
Wednesday, Apr. 29, 2009
We need all hands on deck.
PRESIDENT OBAMA,
praising the Senate's 65-31 confirmation of Kathleen Sebelius as Health and Human Services Secretary in the midst of a public health emergency
More safety.
COMPETITIVE SALARY
Most of our competitors don't pay much either.

"JOIN OUR FAST-PACED COMPANY"
We have no time to train you.

"CASUAL WORK ATMOSPHERE"
You'll be here very late, very often -- might as well be comfortable.

"MUST BE DEADLINE-ORIENTED"
Your first four projects are already way overdue.

"SOME OVERTIME REQUIRED"
Did we mention that you'll be here very late, very often? And most weekends.

"DUTIES WILL VARY"
Anyone in the office can boss you around.

"MUST HAVE AN EYE FOR DETAIL"
We have no quality control.

"CAREER-MINDED"
Female applicants must be childless.

"APPLY IN PERSON"
If you're old, fat or ugly, that position has already been filled.

"NO PHONE CALLS PLEASE"
This job listing is just a legal formality. The position was filled by some executive's nephew.

"SEEKING CANDIDATES WITH A WIDE VARIETY OF EXPERIENCE"
Due to consolidation, you'll be replacing three people.

"PROBLEM-SOLVING SKILLS A MUST"
This company is a total mess.

"REQUIRES TEAM LEADERSHIP SKILLS"
You'll have all the responsibilities of upper management, without the pay, title or respect.

"GOOD COMMUNICATION SKILLS"
Listen to management, figure out what they want, don't ask too many questions and get the sh*t done.