Quotes of the Day
Thursday, Apr. 30, 2009
I'm pleased with the progress we've made but I'm not satisfied.
BARACK OBAMA,
stating that his first 100 days in office have been successful, but admitting that more needs to be done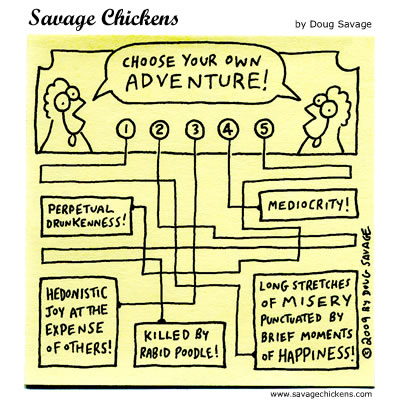 More adventure.
-- You no longer know what time fast food drive-thru windows close.

-- Your potted plants stay alive.

-- You pay at least a dollar more than the minimum payment on your credit card bill.

-- Your friends' hook-ups and break-ups are now marriages and divorces.

-- You attend parties that the police don't raid.

-- You're not expected to leave the room when the adults are talking.

-- You refer to college students as "those kids."

-- You drink wine, scotch and martinis instead of just beer, beer and beer.

-- You feed your dog Science Diet instead of leftover pizza.

-- At 6 a.m., you're putting your contact lens in instead of taking them out.

-- Naps are no longer weekday options.

-- Dating involves dinner and a movie, not keggers and Ecstasy.

-- Grocery lists contain more than toilet paper and potato chips.

-- You leave parties because you have a busy day tomorrow, not because the EMS guy has strapped you down.
Quotes of the Day
Wednesday, Apr. 29, 2009
We need all hands on deck.
PRESIDENT OBAMA,
praising the Senate's 65-31 confirmation of Kathleen Sebelius as Health and Human Services Secretary in the midst of a public health emergency
More safety.
COMPETITIVE SALARY
Most of our competitors don't pay much either.

"JOIN OUR FAST-PACED COMPANY"
We have no time to train you.

"CASUAL WORK ATMOSPHERE"
You'll be here very late, very often -- might as well be comfortable.

"MUST BE DEADLINE-ORIENTED"
Your first four projects are already way overdue.

"SOME OVERTIME REQUIRED"
Did we mention that you'll be here very late, very often? And most weekends.

"DUTIES WILL VARY"
Anyone in the office can boss you around.

"MUST HAVE AN EYE FOR DETAIL"
We have no quality control.

"CAREER-MINDED"
Female applicants must be childless.

"APPLY IN PERSON"
If you're old, fat or ugly, that position has already been filled.

"NO PHONE CALLS PLEASE"
This job listing is just a legal formality. The position was filled by some executive's nephew.

"SEEKING CANDIDATES WITH A WIDE VARIETY OF EXPERIENCE"
Due to consolidation, you'll be replacing three people.

"PROBLEM-SOLVING SKILLS A MUST"
This company is a total mess.

"REQUIRES TEAM LEADERSHIP SKILLS"
You'll have all the responsibilities of upper management, without the pay, title or respect.

"GOOD COMMUNICATION SKILLS"
Listen to management, figure out what they want, don't ask too many questions and get the sh*t done.
Quotes of the Day
Tuesday, Apr. 28, 2009
The only difference is if a dog bites my ankle, it ain't going to hurt me.
ARMY SGT. PATRICK MARZIALE,
a Purple Heart recipient, on adjusting to a prosthetic limb after losing a leg in Iraq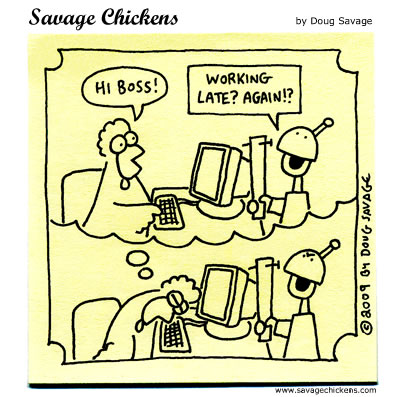 More PROD3000.
A woman went to her priest with a problem. "Father, I have two female parrots, and they only know how to say one thing. All they ever say is, 'Hi, we're prostitutes. Wanna have some fun?' "
"That's terrible!" exclaimed the priest. "But I think I can help. Bring your two female parrots over to my house, and I will put them with my two male parrots whom I taught to pray and read the Bible. My parrots will teach your parrots to stop saying that terrible phrase, and your female parrots will learn to praise and worship."
The next day, the woman brought her female parrots to the priest's house. His two male parrots were holding rosary beads and quietly praying in their cage. The woman put her two female parrots in the cage with the male parrots. The females said, "Hi, we're prostitutes. Wanna have some fun?"
One male parrot looked over at the other male parrot and exclaimed "Put those beads away, our prayers have been answered!"
Quotes of the Day
Monday, Apr. 27, 2009
For a baby, every day is like going to Paris for the first time.
ALISON GOPNIK,
psychologist and author of The Philosophical Baby, on the changing attitudes toward infant awareness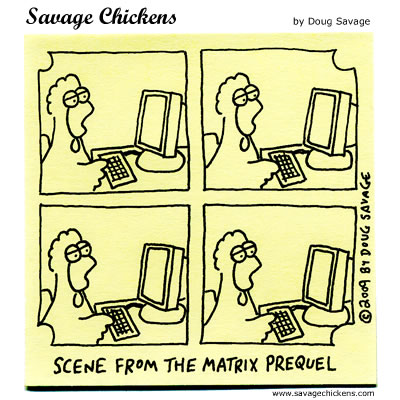 More movies.
OBJECTIVE
To disengage said bra without looking like an idiot.
WHAT YOU NEED
1) Girl with bra
2) Two functional hands
3) Common Sense
TECHNIQUES
1) THE HOUDINI HUG -- Using sleight-of-hand, place arms around girl and unhook bra. Try to refrain from saying, "Ta-da!"
2) MCGYVER'S OFF-THE-SHOULDER SLIDE -- An alternative method to use after ten minutes of unsuccessful hugging.
3) HILTON'S LAST RESORT -- Beg like a dog and learn to absorb the harsh sound of wicked laughter.
DO NOT USE: scissors, blowtorch, pliers, wire strippers, cutlery, Black Magic, staple remover, chainsaw, brute strength, CB4, set of lock picks, or chisel and hammer.
WARNING: When removing a bra you should not say the following:
1) "I really want to thank you for this."
2) "Dammit! I thought they were bigger."
3) "Do you have any cereal?"
Quotes of the Day
Friday, Apr. 24, 2009
Take care to avoid leaving blood on the subject's face or visible wounds on the body.
a CHINESE GOVERNMENT MANUAL,
for law enforcement officials called "Chengguan" who deal with low-level crime such as checking permits and removing unlicensed street vendors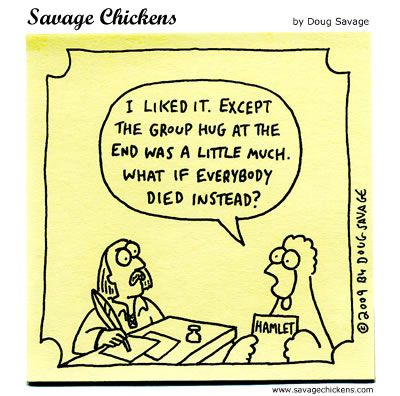 A belated happy birthday to Willy Shakespeare!
-- I can't reach my license unless you hold my beer.

-- Sorry, Officer, I didn't realize I was driving.

-- Wow, you must've been doing about 125 mph to keep up with me!

-- I was going to be a cop, but I decided to finish high school instead.

-- You're not gonna check the trunk, are you?

-- You look just like my girlfriend's deadbeat ex-husband.

-- The question is -- do YOU know why you pulled me over?

-- I was trying to keep up with traffic, and it's miles ahead of me.

-- If you have to ask if I've been drinking, I'm not going to tell you, dude.

-- It wasn't my fault -- when I reached down to roll this joint, my gun fell off my lap and got lodged under the brake pedal.

-- That's a sweet 9mm. You want to hold my .44 magnum?

-- If I'd known I was getting a full body cavity search, I would have waxed!
Quotes of the Day
Thursday, Apr. 23, 2009
I don't give a rat's ass if it helps! We are America. We do not f___ing torture! Oops.
SHEPARD SMITH,
Fox News anchor, on why he believes it's wrong for the U.S. to use torture during interrogations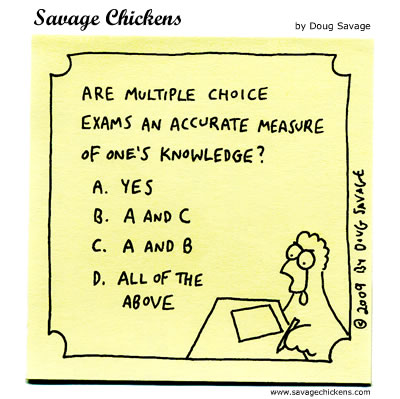 More testing.
A woman visits a fortuneteller who tells her, "Prepare yourself to be a widow. Your husband will die a violent and horrible death this year."

Visibly shaken, the woman takes a few deep breaths, steadies her voice and asks, "Will I be acquitted?"
Quotes of the Day
Wednesday, Apr. 22, 2009
Nobody ever thought the big fellow would be the person they're carrying out of the arena. I was going out like a wounded soldier.
DIKEMBE MUTUMBO,
eight-time NBA All-Star, after suffering a career-ending knee injury during a playoff game on Tuesday night
Quotes of the Day
Tuesday, Apr. 21, 2009
Searching a backpack is dramatically different than asking a student to take their clothes off.
GRAHAM BOYD,
an ACLU lawyer in a Supreme Court case over school officials' strip-search of a 13-year-old girl
Q: What did the sergeant tomato say to the slacker soldier tomato?

A: "You better catch up!"
Quotes of the Day
Monday, Apr. 20, 2009
Some are trying to sleep, some are talking, some are eating, some are on the phone ... Everyone just makes the best in trying circumstances.
JIM RETTEW,
American Red Cross spokesman, after a spring storm dumped up to 3 feet of snow west of Denver, stranding hundreds of people in shelters and forcing the closure of an 80-mile stretch of Interstate 70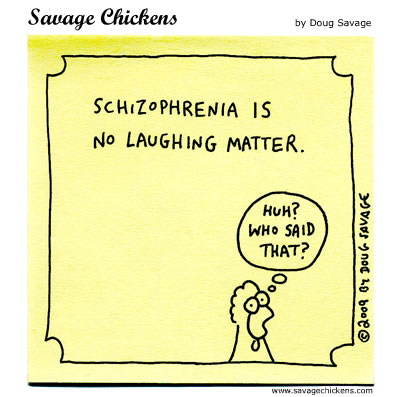 More psychology.
A duck walks into a bar and asks the bar tender, "Got any 'gwapes'?", and the bartender replies, "No, sorry I don't sell grapes here." So the duck leaves and goes home to rest and the next day he walks into the same bar and asks the bar tender, "Got any gwapes?" The bartender replies, "No, sorry I don't sell grape here." The duck leaves and goes home to rest and the next day, he goes back to the bar and asks the bartender, "Got any gwapes?" The bartender angrily replies, "I don't want to have to tell you again, I don't sell grapes here and if you ask me again I will nail your beek to the counter of the bar!" The duck leaves and goes home to rest. The next day the duck goes to the bar and asks, "Got any nails?" The bartender looks at him and screams, "No, we don't have any nails!" The duck then asks, "Got any gwapes?"
Quotes of the Day
Friday, Apr. 17, 2009
We got blindsided by two idiots with a video camera and an awful idea.
TIM MCINTYRE,
Domino's Pizza spokesman, who says the company is preparing a civil lawsuit against two former employees in North Carolina who made a video of themselves grossly mishandling the food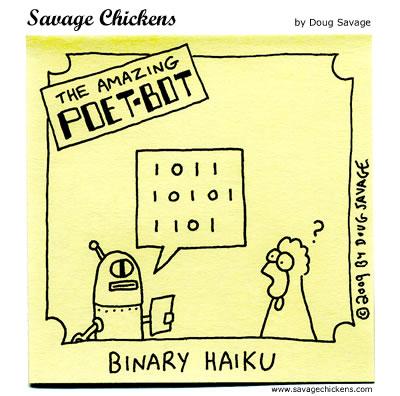 More Poet-Bot.
I call her. She tells me my dog, Sluggo, just took a dump on the new carpet. I'm like, 'Shoot him.' She goes, 'That's just like you, Ron. I have a genuine problem, and you're being sarcastic.' 'Alright, honey, I'm sorry. Put the dog on the phone. I'll talk to him.'